TOMS Shoes are quickly becoming a favorite where I live --
Mobile, AL.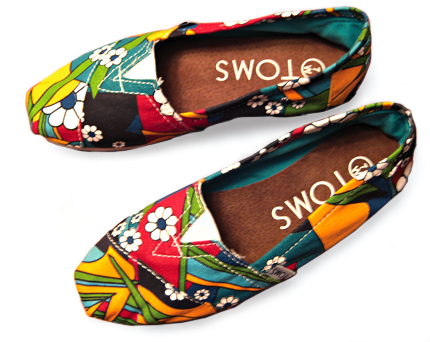 I'm not going to act like I'm the biggest TOMS advocate out there because I'm not. i do LOVE my two pairs and will probably invest in more in the future, but I'm not going to join in on wearing NO shoes today. I just did a blog post on how plantar warts are CONTAGIOUS! Do you think I'm an idiot? But I will be wearing my TOMS. I think that counters my support.
For every pair of TOMS you buy a child in need gets a pair.
To check it out and buy yourself some sweet TOMS visit:
TOMS Shoes.com
Anyways, the one down side of these shoes is that they get smelly fast, especially if you walk in water. I highly recommend NOT walking in water. Also, I have sweaty feet so they get smelly even faster. I thought I couldn't wash these shoes because the insole is made of leather so I bought some Odor Eaters and kept truckin, but now I have found a way to successfully clean them!
First
, you'll want to wash them by themselves on the most gentle cycle you have in the washing machine. Add laundry detergent, whatever. Wash.
Second
, you'll want to dry them on LOW or NO heat and you'll want to do that with a bunch of WET towels, or if you have a dryer rack (They're sold with all Sears appliances, just repping.) then dry them on there. I prefer the dryer rack option, but we don't have those here at college. I also use a dryer sheet.
SIDE NOTE:
When you get them out of the dryer and put them back on your feet they may feel shrunk or the leather inside may have curled up. NOTHING to fear. Just wear them for like 10 minutes and they're back to normal, dear!
Now go out and wear some TOMS, support kids in need, and don't be smelly unless necessary!
For more great How to's and articles, I currently blog at www.katieallred.com